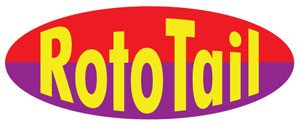 While back I shared with you my recent Top Secret bait experience. Well, today's the day it's revealed. It's called the RotoTail – check the vids below.
Basically, the bait is a plastic worm (or make it into a trailer) with a tail that spins 360 degrees. The tail has a soft-plastic spinnerbait-like blade at the end that thumps through the water as it spins – when you're reeling it or it's falling – and it's weedless. Fish it like a worm, crank it, put it on a jig or spinnerbait, whatever you think would work.
The guy who developed it (see below) probably likes it as a swimming jig trailer best of all. Maybe.
The head of the RotoTail doesn't move/turn/twist because of a patented hard-plastic swivel, which is kind of ingenious imo. (If that sounds complicated, it ain't. My kids can rig them up in about 5 seconds and love "making their lures.")
As always, here's the full disclosure:
1. The guy who developed it – for now remaining anonymous for reasons of his own – is a buddy of mine. He is a diehard basser, to say the least. I'd love to say more, but can't….
2. Me and my little band o' merry men here helped him out a bit with the RotoTail website, and I'll continue to help him where I can – he's a bud!
3. I'm pretty sure that most/all of you reading this can fish circles around me (except Jonnie Storm, maybe Z too…), so I'm not going to tell you to like, buy, whatever the RotoTail. That's up to you, and I wouldn't do that anyway – not a pitchman. All I can tell you is that in a summer of fishing it, we found it works as advertised. In other words, it does everything it claims to do.
Do I expect you to be skeptical? Of course – as I said in the above-linked piece, I was too. Only thing for sure: The fishies haven't seen this yet.
Other than that, if you're motivated to try and buy, because of a bug or two with the store part of the RotoTail site (we didn't help with that!), you can only buy the RotoTail Magnum Starter Kit through PayPal using the PayPal button on the site.
I think that covers it, but ask away if any questions.
Here's a good intro to it, just reeling it in

This time a little deeper

Fishing it like a worm/Fluke

As a jig trailer…

…but I'd probably shorten up the trailer a bit like this

Last but not least, here's the TV commercial, his awareness campaign

_____
> Few more vids here on Youbus Tubus.