We're going to change things up a bit today. Instead of covering a science bit like we usually do most Monday's, Jay's post about 1976 and Rick Clunn, along with the comment about weighing tackle boxes in the old Classic days got me thinking about how things have really changed in this area.
Chances are if you've been fishing for a good while, you probably started out with a box similar to the one on the left. Might have been metal if you're REAL old 🙂 or perhaps plastic if you're not THAT old. Had anywhere between 1 and 8 trays that folded up and out when you opened it. Probably had a fillet knife and a stringer stuck down in the open bottom compartment, too. Weren't those the days.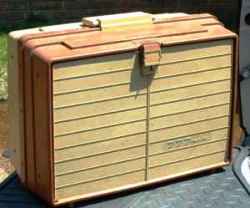 Then professional bass fishing came along, B.A.S.S. set up the Classic tackle weigh-in rules, and if you were wanting to be like the pros, you probably bought and used one of these baby's. Still got mine sitting in the garage with an original B.A.S.S. decal on one side and a Redman tournament trail decal on the other. Weighed a ton, didn't hold much, though it seemed like a lot at the time, but was a sure sign of an advanced and serious bassin' man in those days.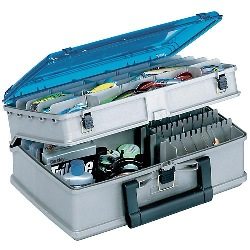 Then they got all fancy, started doing these colored plastic boxes and such – blues and greens. Double hinged doors with inside snap covers, spinnerbait racks, pull out drawers combined with accessory drawers, "Over and Under" and all that jazz. Got one of them sitting in the garage also. Lighter weight than 'the suitcase', held as much and more, looked cool. What's not to like.
Now everything is either soft tackle packs if you're a co-angler, comprised of individual 3600/3700 styled boxes for the most part, or a boat stuffed with the same trays if you're the pro. Yeah the boat gets you to where you're going, looks good behind the tow vehicle with all that glitter shining, but has really just become a giant tacklebox in itself. Still won't hold more than I have in my garage, the ultimate big box, but a lot more mobile and nicer looking. My, how times have changed.