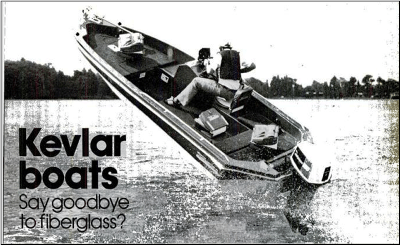 Where were you in Feb. 1977?
Did you have one of those there fancy Skeeter Wrangler bass boats?
Did you subscribe to Popular Science magazine? If so, perhaps you remember this quote: "Fiberglass, the core of modern hull construction, is now obsolescent."
Nearly 25 years after this article made print, and fiberglass still seems to be alive and well in the boat manufacturing world. Yet back in the late 1970's and early 1980's, Kevlar boat hulls were 'all the rage'. The promise of indestructible hulls had the bass boatin' world abuzz.
Advantages were head-to-head, Kevlar was 25% lighter, 50% stronger and 50% stiffer than fiberglass. Kevlar was a creation of DuPont, and was then recognized as the strongest synthetic fiber in the world. Lighter weight meant better fuel efficiency, and easier towing, a big deal back in those days of double digit inflation. Where ramming a stump or other solid object would puncture a hole in the hull of a fiberglass boat, it would only dent a Kevlar built hull – and it could be popped back out in some cases. Remember that ad where the bulldozer is running over the hull of the Hydra Sport?
So what happened? At one point, HydraSports was building 93 percent of their boats with the stuff. There were several problems though:
Kevlar was more difficult to work than fiberglass.
It was trickier to prepare for lamination.
While it had great tensile strength, it was relatively weak in compression.
Finally, it was a pretty costly material, adding between $300-$500 per boat built with the stuff (not sure what that translates into today's dollars).
I still see where it is being used in some hulls of modern day bass boats, usually in the more custom built boats. Have any of you guys ever run a Kevlar hull? Or perhaps one of you guys even owned one of those vintage beauties back in the day. Seems like it was great science, but just not at the right time.