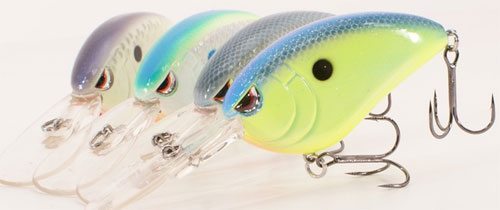 by Steve Magnelia of Amistad Tackle
Down here in Texas it's almost time to break out the deep divers and the long rods. I'm read to launching a missile, and for me it'll be one of the best newer deep-diving baits out there, the Spro Little John DD.
There hasn't been a tremendous amount of hype generated about this bait but I'm here to tell you Spro and bait designer John Crews got this one right.
If you haven't tried one, you should. It's a real winner in the deep diver hard bait category for a number of reasons.
1. Casts Like a Rock…
First and foremost this bait casts like a rock, even in heavy wind. With a 7′ rod and a smooth reel, you can make effortless ultra-long casts. It's a full 1 ounce in weight for making the big heave.
2. …But Doesn't Roll
Casting a deep diver all day is hard enough without fighting a bait that likes to tumble (roll) if it isn't cast just right. This bait has a soft tungsten weight transfer system which reduces rolling to almost zero.
It casts better than any other deep diver I've thrown and I've tried almost all of them. The only model close for casting efficiency I can think off are the old Poe's 300 and 400 Super Cedar series baits which were excellent fliers, but didn't get nearly to the depth of the Little John DD.
3. Gets Down Quick
This bait will get down quick because it sits nose down in the water at rest – it'll get down to an honest 15-17′ on 10-pound mono. It gets down and hunts like a big dog!
4. Gets Funky Too
The bait is somewhat unique in that it's almost a hybrid between a fat- and flat-bodied bait. The fish haven't really been exposed to whole lot of baits that throw off vibrations like this one.
The soft tungsten ball inside also gives it a different sound signature than other baits that have noisy steel balls inside.
Other
> Colors – The color line up isn't fantastic, but it should meet most needs, and the finish has held up well for me in extended sessions digging into rock bottoms. I've had good success with the "cell mate" and "root beer" colors, and yes they have a "sexy shad" lookalike color.
> Hooks – The baits come standard with good sticky Gammie hooks, no need to change them.
> Price – One downside is the price at $10-13, depending on where you buy them, which is twice what you'll pay for other popular deep divers. Buy a good lure retriever – it'll pay for itself quickly no matter what cranks you throw as you'll get most of the baits you snag back.
> Check out the Little John DD here at spro.com. Better get you some!
[Trying…very hard…not to make a comment about having John Crews, Little John, tungsten and steel balls and DD in the same post…. – JK]