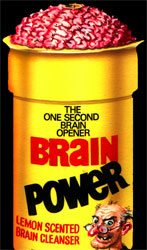 You head to your regular [insert day/night here] derby. You pull up to the launch, and who's there but KVD, Skeeter the Reese, G-man Swindle and whoever else you want to throw in there.
First you think: Holy crap!
Second thought: Wait – this is my home lake. I'm going to beat these yahoos!
But even so, your heart's a-beatin', your hands shake a little, you wonder if you really can hang with sticks that big.
But you're not up against them. Here's what you're up against:
That's right. That whopper of a brain – which is why many wives/sig-Os out there think their husbands/sig-Os are [insert disparaging term here] when we don't catch 'em.
Of course, there are fish that are super-smart. Some say they control the world. Here's one recently "caught" by a super-secret anti-fish-brain agency: