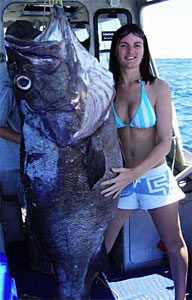 Seems like New Zealand has its first gals fishin' site – "Reel Chix Fish" – started by a gal, so sorry guys, no semi-obscene pics. As the father of a little girl who likes to fish, I think it's cool that the ladies are out there showing their fish-catchin' stuff.
What does this have to do with bassin'? Not much unless you count that pic of a reel chix with what looks like a dinosaur-era largie.
How 'bout "Reel Chix Bass Fish" – or is that already on Facebook somewhere?