I am not a bait-builder. That's on my "if I had more time I'd…" list. Specifically, I'd love to spend some time really analyzing and understanding jigs/trailers. Seems doable, but maybe I'm being naive.
I'd probably save a whole lot of time by just sneaking around the Eakinses house with a spy camera.
Anyhow, back when I was going through a fly-fishing phase – funny story here how full-on Orvis dudes would laugh at me in my rubber waders and then I'd catch 'em… – I'd tie smallie flies that I knew would work because I knew what lures worked. Granted not many baits don't work on river smallies, but you get my drift.
This all popped up in what remains of my cognitive faculties when I saw an article on this new fly that supposedly kicks a** in Michigan when the ice is out. Here's the pic again, courtesy of annarbor.com.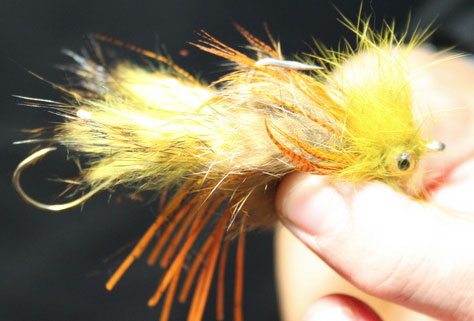 Does that look like a bassin' success story waiting to happen? I don't know, but when I get to my jig experiments – I'm assuming after the kids are in college and I'll have to fish for food – I'm going to try something that…well, that looks like a cross between a chicken and a rabbit. That's how that crazy-looking fly looks to me.
Crazy-looking yes, but it's no crazier-looking than, say, a spinnerbait.
Anyone use a jig that color?