Taken from that day's BassBlaster email. Interesting stuff, and gotta say we love doing the BassBlaster as much as folks dig receiving it. If you're not getting it yet, just use the easy sign-up form at right.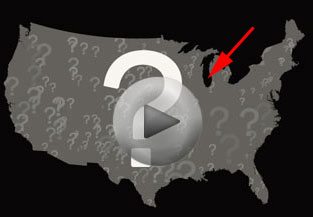 1. "(The mystery concept) opened up my eyes as to how many people get information before an event because I have a lot of buddies that got calls from guys. That was eye opening to me and that's fine. They'll do whatever it takes to find those areas prior to the cutoff."
– Elite Series pro Travis Manson talking about B.A.S.S.'s announcement yesterday that the "mystery lake" stop is Lake Michigan.
About the help thing: A fact, even if it is a surprise. But not everyone gets help.
_____
2. "Having this opportunity is like playing with Michael Jordan in a national championship game, a game 7. This is very big."
– Detroit Lions defensive end Willie Young talking about fishing against Kevin VanDam at the upcoming inaugural Detroit Lions-Kevin VanDam Charity Fishing Tournament June 12 at Kensington Metropark in Milford, Mich.
Dang straight Willie!
_____
3. Umbrella rigs have been around for a long time, especially in the South, but I have to admit I'd never heard of them until they started making headlines at bass tournaments around the country earlier this year.
Huh? A long time? You mean in saltwater?
_____
4. If largemouth bass wouldn't aggressively and with extreme violence smite topwater lures, they'd be just a big green/black sunfish and not the most popular sport fish in Texas and the rest of the nation.
Uh…no. Ever hear of a jig?
And "smite?" Did Thor write that article?
More over-writing from the same article:
That moment when a bass detonates the water beneath a topwater lure engages the visual and, often, aural senses as well as the tactile. It's a very visceral and atavistic moment that sends anglers' hearts into their throats and a jolt of adrenaline and dopamine and who-know-what-all chemicals into their brain.

_____
5. "In my mind, that's like refusing to say someone is sick with cancer and (refusing) to begin offering treatment because the diagnosis can't determine what caused the cancer in the first place."
– An angler talking about officials focusing on Susquehanna River water quality rather than the fish.
What's to worry about? The water's fine….