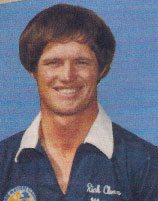 Check out the below, an old Bagley's ad (now laminated) given to me by a buddy some moons ago at a tackle show somewhere. I've always been a big Clunn fan, and loved this retro piece.
Anyhow, on the ad it says:
"Rick credits a bite size chunk of balsa wood, given to him by his friend, Denver Waltham, with helping him to win the $50,000 Bass Masters Classic at Guntersville…."
This one was before my time, so:
Who's Denver Waltham?
Where's he from?
Is he still around?
I assume he is/was a stick?
Anyone?
Tidbits:
> Over 3 days of competition (this was in 1976), he weighed 26 bass!
> Check Rick's belt – looks like a Bassmaster belt and yep, I'd wear it.
> $50,000 in 1976 dollars is about $200,000 in today's money.
Click to see this ad bigger.