That's scales in the on-the-fish sense, not a reel that can weigh your fish…though that would be cool….
Check the photo at left, from Jason Bryant's Icast blog. It's an Ardent reel patterned in what Jason called Fishouflage…don't know if that's a trade name or what.
Made me think of this: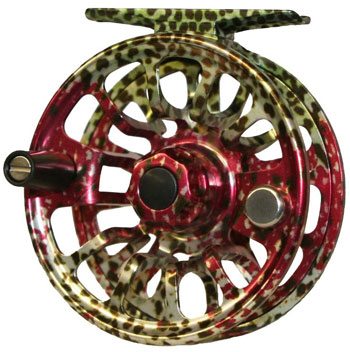 The fly folks are putting trout and saltwater scale patterns on all kinds of gear – reels, fly boxes, snips, flashlights, belt buckles, you name it. I think it's kinda cool. [And btw here it shows a bunch of different fish pattern fly reels – all kinds o' fish including peacock bass and carp, but no smallie or largie! WTH?]
Wish the bassin' manufacturers did it too, though I'm sure it's just a matter o' time.
I NEED the very first smallie-pattern reel. I vote to use the pattern on Tennessee smallies….