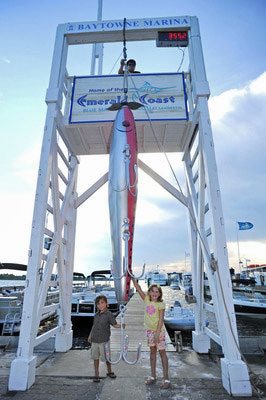 Yesterday the (new) world's largest fishing lure was unveiled at the Sandestin Golf and Beach Resort in Destin, FL. Specs: 10′ 10″ long, 2-foot trebles, more than 355 pounds. And it's a topwater – kinda looks like an old Boy Howdy.
A guy named Mark Davis (not the pro fisherman) and nine other folks took more than 10 months to plan and build the giant bait, which is 24 times larger than the 5.5″ bait it was modeled on, a Flatliner Lures [insert a bait name here because I can't find it].
Flatliner Lures are made by David Partridge, a local, who apparently was inspired to create the world's largest fishing lure by his wife – wonder if she needed to get him out of the house?! It's supposed to be a tourist attraction.
A Guinness rep was on hand at yesterday's unveiling who said the world's largest fishing lure is a new category, meaning there was no previous record.
The lure has already inspired a new adult libation called the Flatliner, available at Sandestin's Baytowne Marina Bar and Grill. It's made with orange juice, cranberry juice, lime juice, grenadine and coconut rum. Sounds pret-T taste-A.
Here's some vid. Looks like they made the hooks with actual points? Time to file those down….