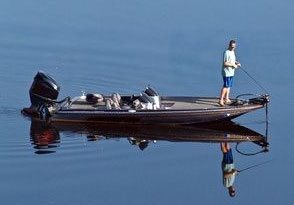 Jeremy Starks used a fishing method called "strolling" or "long-lining" to win the Douglas Lake Elite last weekend. This is where you basically cast out your bait, then get on the small motor and move away from the bait until most or all of the line is off the reel, then begin your retrieve.
This is how Bassmaster.com described it:
Starks employed the long-line (also called strolling) technique to drive his crankbait into the strike zone for a longer period of time than is possible with a traditional cast-and-retrieve technique. After a very long cast, he kept the reel in free-spool while moving the boat to force the crankbait deeper. When most of the line was played out – or a bass took the bait – the spool was engaged and the reeling-in began.
That bolded part is what I'm wondering about. Isn't that trolling?
Unless the wording has changed, here's the applicable part of the Elite Series rules:
An electric trolling motor may be used for slow maneuvering. However, trolling as a method of fishing is prohibited.
Trolling isn't defined because it's assumed we all know what it is. I'm defining trolling as moving the boat when your bait is in the water without cranking the reel handle. And – I guess to distinguish strolling from trolling – with the bait moving?
So if you're moving the boat and the bait is moving and a fish hits it, that's trolling. But if the bait is stationary and a fish hits it, that's trolling – right?
But can a bait truly be stationary?
Let me know if I'm missing something here….