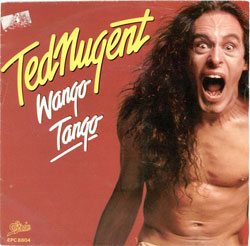 In the spirit of whoever was inspired to name the "pinky-dink" color, I started to wonder what I'd name a color…and then what I'd name a bait. Hmmm.
First thing that came to mind was Andre Moore and his…uh, "colorful," sometimes hilarious bait names at Reaction Innovations.
(Reminds me of the time Z and I interviewed Andre for the old Loudmouth Bass show. We bleeped out about every other word, but the interview was pretty clean – we thought that was funny!)
But then I was listening to the Boneyard on satellite radio this morn, and what comes on but "Ze Wango Ze Tango:"
Too bad couldn't find a vid with Ted in his loincloth for that one….
Anyhow, I start thinking – kind of a cool name, but what kind of bait.
Had to be Ted's bad influence because I started to think…jerkbait?
BAD Jay, BAD!
Lol. Seriously, though, if I wanted to design a signature Fluke-type bait, I think the Wango Tango would be a cool name. Maybe even for a, uh, big worm too.
Think my sig bait would be either a worm (ol' reliable), a Jewel Eakins Jig-sized jig or a grub. A grub is also ol' reliable for me, but has anyone ever designed a signature grub?!
My signature color? Don't know. I'm a big fan of chartreuse added to brown or black. "Booger" is a name that comes to mind, but I'm sure someone has named a bait color that already. Just not too many things chartreuse. Maybe "inchworm?" Nah. "Alien craw?"
I'll keep thinking on it. What's your signature bait type, name and color?