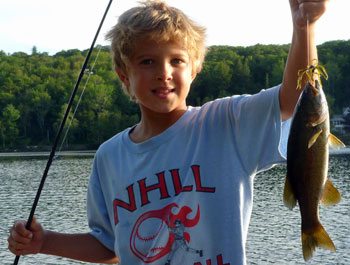 …Does a Bassin' Boat Improve Your Fishing IQ?
Lately I've been doing more bank fishing than I've done in many a year. Just circumstance. My boat's at my folks' place, about 75 minutes away, and my 9-year-old son is eaten up with fishing. "Can we go fishing, dad?" – I hear that daily, and what am I supposed to say…no?!
So we bank-fish at a local lake, and recently at lakes and rivers in Maine – we're up here right now visiting family. Plus there's the fact that my 7-year-old daughter would rather fish from a bank, where she's mobile, than a boat.
I guess I like bank-fishing. Any fishing. And after I got past the wanting to be in a boat to fish here or there and just enjoy my kids fishing (was tough!), I started to reprogram my brain for bassin' from the bank.
That's background. What I've found is that fellow bank-fishermen or folks you meet on the bank at a dock or whatever are full of fishin' tidbits. These are everything from the basic – "that's a smallmouth bass" [even my wife wanted to laugh at that one] – to the more sophisticated description of fishing a bait and fish biology info sort of out of the pages of In-Fisherman.
"Sort of" because it ain't quite right. One example: A guy fishing a pond told me figured all the fish were stacked up at a small inlet because fish like current – but he said it much more technical In-Fish style than that. I told him I was pretty sure some fish never moved from certain spots in that pond, and they for sure would be cruising the bank at that hour (dusk). Maybe he was right, or maybe just thinkin' out loud, but my knee-jerk was like, "Am I in some kind of alternate reality?"
So it was among such well-meaning folk (they are) that I took my kids out to a dock yesterday. Dock was on the right side of a boat ramp at typical rocky Maine lake. Had the loon swimming around, islands jammed with trees, the whole thing.
The locals of course were saying there weren't any fish to be caught there. One guy's throwing what looked like a tree off the dock so his half Chessie/half Lab could go get it and drag it back. A boat backed in once in a while. You get the picture.
So I tie on a couple 1/4-oz jigheads, slap on watermelon-pepper dual-tail skirted grubs and let the kids have at it. They're fishing the right side of the dock, away from the ramp where there's deeper water.
I explain how to fish it – hop it or swim it slow above the rocks – so naturally they crank it back a couple times, get bored and then decide to cast the baits out and leave them while they grab nets and try to catch crayfish or whatever else they can find.
Long story short, they figure out if you let the grub sit then pick up the rod and start cranking, you get smacked by a smallmouth. My daughter catches one, then my son gets mad (lol) and catches two.
Then we start getting the questions:
> You caught that right here?
> What's that bait? What's it supposed to look like?
And: "Yep, that's a smallmouth…."
Pretty funny. Made me think that if we were on a bassin' boat, everyone would assume we were the experts and maybe not offer such advice or facts. Because I've never heard that stuff stepping off a boat. Maybe you have to spend enough time on the bank to hear this stuff, who knows. Kind of enjoying it – and btw, not tossing all bank folks into one barrel. Some are killer anglers.
Back to Maine: I sure as heck wish I had a boat to fish that lake. On the other hand, nothing beats a kid's crazy joy when they catch a fish. Guess we're all still thataway….