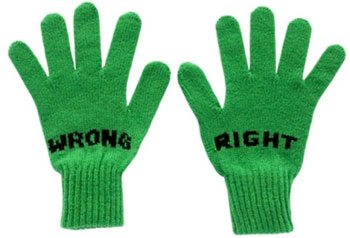 Maybe You're Fishing the Wrong Side…Seriously
[We're going to be doing regular Science posts because this stuff is interesting and useful, and doesn't see the light of day anywhere else. Please hold your applause... –Ed.]
Had a convo with the one and only Ron Lindner the other day, co-founder of the In-Fisherman empire, during which he mentioned a scientific study about lefty and right bass. The context was Ron joking about how maybe he can't catch a bass that lives by his dock because he's always fishing the wrong side of it.
Naturally I had to stop him there. Was he joking…about the study part?
Turns out he wasn't, and he sent me a copy of an In-Fisherman article to prove it. Here's the short version.
> Three scientists from Japan's National Institute for Environmental Studies did the study, published in 2007.
> They found that "the development of muscles and bones in fish is laterally asymmetric." So "a 'lefty' individual has a 'C'-shaped body, with its left-side muscles more developed and the left side of its head facing forward. The body of a 'righty' is the mirror image."
> "This laterality causes asymmetric interactions between individuals of different fish species, in that a righty or lefty fish consumes more lefty or righty fish, respectively."
> What does this mean for fishing? "Righty fish had more hooks set on the right side, whereas lefty fish had more on the left side, indicating that righty fish moved more to the left, and lefty fish moved more to the right, in successful catches."
> Just in case you think that's BS, "the relationship between the hooked position and movement direction was confirmed by video-image analysis of the angling."
The In-Fisherman article noted that those results were duplicated in another experiment, showing that it wasn't just a one-off.
So maybe the next time you can't catch that bass you know is there, fish for it on the opposite side. Or maybe rig your bait so it's running to one side rather than straight back. Seriously.
Category: Science