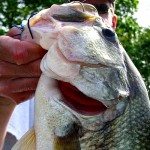 It's the age old tourney dilemma, to hook fish in practice or to shake them. You'll find lots of opinions on message forums concerning this topic, as well as in magazine articles and professional bass angler interviews. It seems a large component of the pros say to shake'em, not wanting to stick fish they will need the next day or two of a tourney. But to this point it has been a purely personal decision based on experience and opinion. Finally, science takes a peek at this problem.
Appearing in the Sept. 2006 edition of the Journal of Fish Biology, 'Effects of angling on feeding by largemouth bass' by Siepker, Ostran, and Wahl tested this out in the lab. Unfortunately, I don't have a journal subscription to the above mentioned reference journal, nor do I feel compelled to pay the $50 fee to view this article, but the abstract provides us with a good idea of the testing and the results associated with this experiment.
Largemouth bass were ran through a series of tests to determine how soon after being caught they would resume normal feeding. Fish appear to have been caught by hook and line, and then ran through two scenarios. The first was being held for a period in containment and then probably weighed or measured prior to being "released" to feed again. This would represent a bass held in a tourney type scenario. The second path was bass that were caught by angling but immediately "released" so they could recover and be observed for feeding resumption. The last group would have been the control group, fish that were most likely electrofished and then placed into their respective homes to be observed for feeding. The results  play out as you might expect, other than the interesting recovery times associated with each scenario.
The first to recover were the control group, which would resume normal feeding somehwere between 0-2 hours after release, almost unaffected. The next to recover were the immediate caught and released bass. This would be very similar to a practice day where you might hope to come back to the area and catch that same fish within the next day or two. These bass typically only needed between 6-11 hours to fully recover to the point of normal feeding resumption. In other words, in most cases they'd be ready to bite again the very next day.
The last group, the tourney simulated fish that were held in livewells after being caught and released at some later point, took longest to recover as you might expect. Interestingly though, the average time to resume normal feeding for these fish ranged from 13-18 hours. Again, these fish could most likely be caught again the very next day. Keep in mind that these were averages based around normal standard deviations, so while this would account for the majority of all bass tested, there were probably a few 'outliers' that ran longer or shorter for each group. Each fish is an individual and will react accordingly. That said, the results are pretty cool.
So shaking fish off in practice would appear to be a largely psychological thing based upon an anglers belief, confidence level or perception. Additionally, this in part explains why tourney release areas can be such good fishing spots, and why many times they are made off limits. This also explains why running to other ramp locations on a large lake with multiple ramps can be a good tourney strategy. Every angler has to fish and strategize around his own comfort level, and this study shouldn't necessarily change whatever that strategy is for you. However, it does chip away at the reasoning of those anglers who profess shaking fish off is the correct practice strategy for tourney fishing.