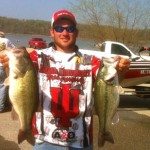 There has been some speculation that smaller "club level" tournaments might be doing more damage to bass or bass fisheries than larger, more visible events. Part of this was based on the fact that there are simply a whole lot more smaller events held throughout the country than there are larger professional events, and on a lot more waters. Additionally, club tourney weigh-ins are arguably less organized than larger events, often times being held in parking lots on a more impromptu basis. Fortunately, at least in a recent study, the news is good.
Eight live-release bass tournaments were observed in 2008 at two central Illinois lakes, Lake Bloomington and Evergreen Lake. Blood sampling was performed at the tournaments at Lake Bloomington, and delayed mortality was estimated at the tournaments at Evergreen Lake. All events lasted for 8 hours. Surface water temperatures at Lake Bloomington ranged from 60 to 82 degrees F., and events were held in April, May, July, and October. Surface water temperatures at Evergreen Lake were 57 to 82 degrees, with events held in May, June, August, and October. All tournaments were part of the Ever-Bloom Tournament Trail.
Events averaged less than 30 boats, and each boat had two anglers fishing as a team. Each team was allowed to weigh in a maximum of five bass, and anglers incurred a 1-lb. penalty for each dead fish brought to the scales. Anglers used plastic bags filled with lake water to transport fish from their boat to the scales. After total weight was determined, fish were placed back into the water-filled bags and carried by the anglers to the lake for release.
As for study results, without going into all the specific blood parameter details, the basic finding was that bass get stressed going through the holding and weigh-in procedure of a smaller event similar to that of the larger events. The good news on the mortality side of the study was that out of a total of 96 largemouth bass weighed in during the four tournaments surveyed at Evergreen Lake, initial mortality ranged from 0-4% (0.0% – May, 4.0% – June, 3.8% – August, and 0% – October). About 60% of the fish from the May event escaped their holding pen during the first 24 hours, thereby confounding results somewhat. However, If you were to assume none of those fish died (since they were healthy enough to escape in the first place), delayed mortality rates (up to 72 hours) turned out to be very low, with only a single bass dying during all events after the 3-day holding period. No mortality of reference largemouth bass collected by electrofishing was observed at any tournament during the observation period.
So, the news is good, but as always, your mileage may vary. We've all been in small events that have had higher levels of initial mortality than shown in this study, so make sure your club is doing it's best this year to run fast and efficient weigh-ins, and that you're doing your part with good livewell procedures while out on the water, especially during summer.