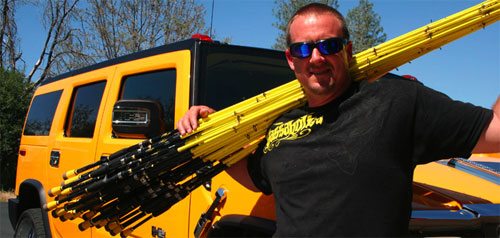 Looks like Skeet Reese – Skeet Reese Inc. – is bringing some stuff to the Classic that you can only get there. Don't know if he's the first or only guy to do it, but regardless, it's smart.
Here's more from examiner.com:
> Bassmaster Elite series pro Skeet Reese announced he will have smokin' deals and exclusive product available at the Skeet Reese Inc. booth at the Bassmaster Classic Outdoors Expo.
> Similar to past years at the Expo ,he has hooked up with Lucky Craft to produce four new colors for the SKT cranks, BDS 3, BDS 4, LVs and more. The new color lines will debut at the event and are to be sold at his booth exclusively at the Classic.
> Other deals that will reel in anglers to the Reese area will be the mock Reese jersey free with the purchase of a Signature Series Tessera rod or a Victory reel, and they will throw in one of the exclusive Classic color crankbaits with each of the new tackle bags.
> Keeping the excitement of bass fishing fresh on the mind and in the hands of today's youth, Reese has teamed with Wright & McGill to create the Jr. Champion combo.  Stating, "This is no toy, but a rod and reel outfit downsized to fit a young angler", Reese Inc. will throw in a kids Tee with each purchase.
The Expo is at the Classic in New Orleans, Feb. 18-20.
Exclusive, limited-availability, well-priced products that get more fans to the Classic. Smart.