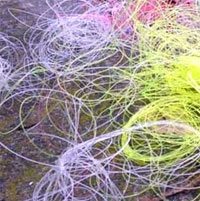 As you may have read here on the Parade, spent quite a bit of time on the bank in "0-11" fishin' with my kids – due to boat logistical issues that my son has said "better be" fixed by the spring….
He's right, but what I mean by the title of this post is a couple things.
1. Everywhere we go, and I do mean everywhere, these worm- and minnow-drowners (can you drown a minnow?) leave their junk. Everywhere.
Line, hooks and hook packs, styrofoam worm cups, cans, bottles, lighters (yes, we carry as much as we can back to the truck). What do their houses look like? Or their vehicles?
This is so bad that The New York Times recently had an article about discarded fishing line strangling birds in Central Park, which if you're unfamiliar with NYC is one of the only places with trees on Manhattan Island.
BFD? Nope. The city folks who read that paper believe every word, so now anglers are bird-killers.
2. Bank fishermen don't give a crap about regs.
As if the litter wasn't enough to show the vast chasm between the bank and boat cultures, here's a case in point: Every New Year's Day I make it a point to go out and hunt or fish. Now that my kids are of age, I do it with them, so we went a-fishin'. This time for trout.
We're on these protected trout waters – artificials only – and we're not catching a thing. Trout not being the smartest fish and no other fishermen around, I'm wondering what's going on. On our way back to the car, I get my answer.
Bait.
Yep, there's a father and his three son about to start fishing with bait – right by a tree that has the poster with the regs. Guy is such a gem he tries to hide the bait under his arm as we pass. Further down we see some bobbers caught in trees.
Who are bank fishermen? That guy, teaching "outdoor values" to his kids.
Hate to tar all bank bait-slingers (really), but in an era when seeing a game warden is as rare as being visited by space aliens – and when the city people control the regs – somethin's gotta be done.
Police your own, bankies!
[Few deep breaths and I'm good.]