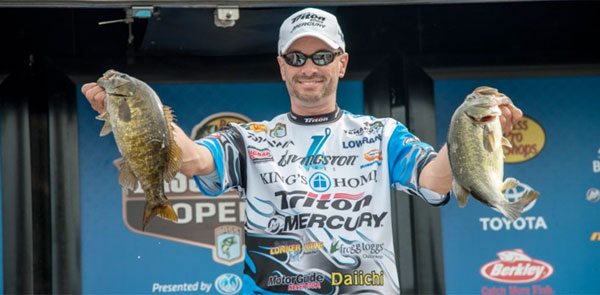 Here's what Randy told me about what he did to win the Oneida Lake Northern Open:
> "It took a plethora of techniques and baits to catch 6-7 quality smallies each day. I had one largemouth on the final day. Fourteen of my 15 fish were smallies.
> "I had to mix it up a bunch, trying everything to catch a fish. They were so finicky this year.
> "They were biting the Howeller [crankbait] good in practice when the wind was blowing. Any bright-colored, loud crankbait in 8-12 feet was working good. Then the calm days hit and they got very tough.
> "Caught 3-4 one day on a Carolina rig with 3/4-oz weight and 3-foot leader on a Speed Craw. For some reason on that first day the Carolina rig worked great. Then the dropshot got better as the tourney progressed.
> "Nothing ever worked all 3 days. Constantly changing and being versatile was the key to success. I never caught one on that swimbait til the last 15 minutes, but the last two fish that came on it won the tourney for me."
Baits, left to right per the pic: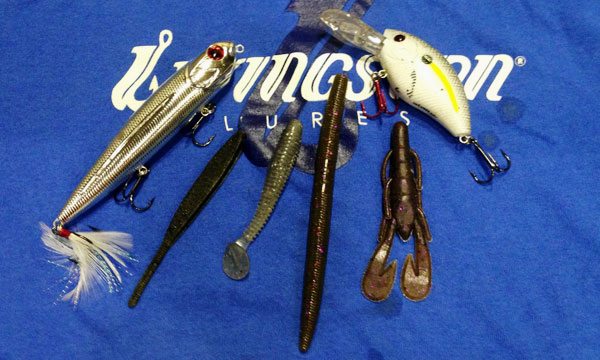 > Livingston Lures Walking Boss (chrome shad).
> Dropshot: Yamamoto Shad Shape Worm (green pumpkin/watermelon laminate), 3/8-oz weight.
> Bass Pro Shops XPS 3″ Speed Shad swimbait (hologram shad) on 1/4-oz head.
> 5″ Yamamoto Senko (green pumpkin purple/copper) rigged wacky style.
> Carolina-rigged Zoom Ultra Vibe Speed Craw (green pumpkin).
> Livingston Lures Howeller Dream Master Classic crankbait (chartreuse shad).