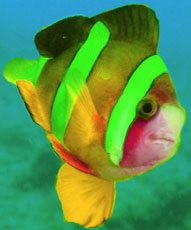 Waded through a bunch o' pattern info from the Top 11 at the Classic (all now in BassGold.com, some deets coming on Bassmaster.com or maybe already there), and these two color-related items stuck out for me.
Ott DeFoe said – I believe to Bassin'Fan – that a key of the custom-colored crank he fished with was the orange belly. "This is going to sound crazy, but I think that orange belly is a difference-maker in the spring. I think the shad sit down on the bottom and they get a little bit of an orange coloration to their bellies. Where I'm from (Tennessee), we have red clay and it's not uncommon to catch a bass with an orange belly because it's been sitting on the bottom. I think the baitfish do the same thing."
Huh. Always seen the orange bellies and figured it was a bluegill reference, then moved on. Never really thought it could be a "difference maker," but as I've said many times, I ain't no pro fisherman. Interesting….
Tim Horton, who finished 6th and whose days 2 and 3 combined weights were second only to Chris Lane's, fished a 1/2-oz Booyah spinnerbait with a black/brown skirt and two gold blades (#5 willow, small Colorado).Not only that, he fished it all day, every day, even when it was sunny and calm.
Told me he feels the fish can see dark colors better in muddy or dingy water, and I agree. Kind of the same reason dark colors are better at night.
Other than that, I get the whole red-in-spring thing (now maybe orange too?), but for me dark colors – can't get enough black – always work great in spring. Talin' plastics and jigs.
You?
Category: Bassmaster Classic, LA, Ott DeFoe, Red River, Tim Horton