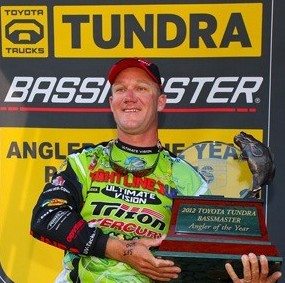 Putting aside Boyd Duckett's win for a sec and Randy Howell's heartbreak (dang), you all know by now that Brent Chapman won Angler of the Year this weekend. I'm incredibly stoked about that.
Fact is, Brent has been a great (I don't use that word lightly) consistent stick literally for decades, but beyond that, he's a great, great guy.
I could go on about the human side, about how he was real close to bailing from the sport he loved so much because of finances, and how that had to be killing him inside – don barone does that better than I ever could, here – but I want to pause at that last sentence above: Brent is great, great guy.
Does that fact alone mean he deserves to win Angler of the Year? Obviously not. But to me, at least, it makes the fact that he did win it that much sweeter – for all of us.
Here's what I mean: It's not like Cayuga winner Boyd Duckett and the winner of the previous four (!) AOY titles – KVD – aren't great guys too. They are. Ain't it great? Beautiful, even.
That's bass fishin', a point driven home to me by a few things I saw this weekend at the Oneida Elite:
1. Spoke to a gal who works for Ramada (the Oneida event's official name was the Ramada Championship) who said she was having a great time because she'd "met so many nice people." Yep, I told her, them's bassin' folks.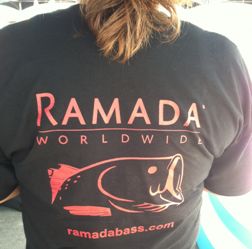 2. Shot this pic of some guy hanging out on the dock at the day 4 launch. No suit, no entourage, just a regular ol' bass angler like you and me. Frickin' great.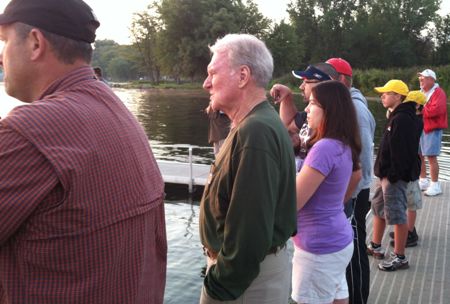 3. Took my son to see a Major League Lacrosse game this summer. Talk about a pro sport in baby pants. Makes bassin' look big-time major. Anyhow, he got a few autographs after the game but most of the MLL guys didn't seem interested in that kind of thing. Only a few took the time to actually interact with young fans. Dumb.
You want to meet, get a pic with and ask questions of an Elite pro, go to the launch and the weigh-in. You can even go out and watch them compete. It's just awesome.
Did I mention that my son — who, along with my daughter, met Brent and the other guys this weekend — is now a HUGE Chapman fan? As his dad, I couldn't be happier about that. Our sport is filled with "role models" — overdone phrase, but you know what I mean. Love it.
Thanks guys, and a big woo-hoo! for the Chapmans.