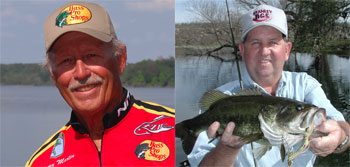 If anyone needs proof about just how awesome bassin' folks are, all you need to do is think about is not the bassers who are in the various fishing halls of fame, but all the people – some who you probably know – who could and maybe should be in one.
In this case we're talking about two of the more famous fish-heads in our midst, Tommy Martin and Lonnie Stanley – who btw can still beat most of us in a derby no prob. Anyhow, these two guys are going to be inducted into the Texas Freshwater Fishing Hall of Fame June 2. Congrats guys!
More on these two fellers:
> Martin began guiding on Sam Rayburn Reservoir in 1968 and fished in his first tournament the following year. He turned pro in 1972 and won the Classic 2 years later.
> In 1975 Martin became the first professional bass angler to acquire cash sponsors [really? didn't know that].
> He won 19 national tournaments, was a 19-time Classic qualifier and won five B.A.S.S. titles. He also competed in FLW Outdoors events and qualified for both the Forrest L. Wood Cup and the Stren Series championship.
> Martin helped found Texas Black Bass Unlimited, a Texas conservation organization that played a key role in developing the Texas bass fishery into the best in the nation.
He was inducted into the Bass Fishing Hall of Fame in 2003.
> Stanley started building jigs in 1979 after winning a tournament on Toledo Bend Reservoir with one he made. In 1980 he founded Stanley Lures, and while continuing to build jigs in his garage in College Station, he won six more tournaments in 1980 and 1981.
> Innovative ideas such as interchangeable skirts, silicone skirts and multi-colored skirts helped Stanley build his company into a multi-million-dollar organization. Part of his success sprang from his prowess as an angler and five-time Bassmaster Classic qualifier.
> He was a five-time Bassmaster Classic qualifier and co-hosted ESPN's "Sportsman's Challenge" television series for 18 years.
> Both Martin and Stanley are noted for giving back to the sport by working with conservation groups, appearing at youth events and giving generously of their time to charitable fundraisers. They both also worked with Paul Hinton, the founder of East Texas Get Hooked on Fishing, Not Drugs.
> Nine other individuals or organizations were nominated to the Texas Freshwater Fishing Hall of Fame this year: the Lake Fork Sportsman's Association, Yantis; the Concho Bass Club, San Angelo; Dicky Newberry, Houston; Mark Howell, Wichita Falls (deceased); Bill Carey, Pottsboro; Barry Stegall, Portland; Dr. Bob Ditton, College Station (deceased); Edward Parten, Kingwood; and Bill Higdon, Cedar Park (deceased).
> The Texas Freshwater Fishing Hall of Fame is housed at the Texas Freshwater Fisheries Center in Athens. Its mission is to "recognize and honor those who have made a lasting contribution to freshwater fishing in Texas, and to foster a sense of appreciation, awareness and participation in the sport of fishing."
Category: Stanley Jigs, Tommy Martin, TX