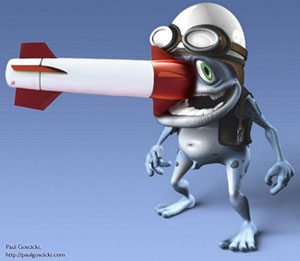 Now that the first Elite Series back-to-back is done, we've been putting together the 1st- through 10th-place pattern info for BassGold.com and 6th-10th notes for Bassmaster.com. As part of that, had a long, interesting convo with Cliff Crochet, who finished 7th at the St. Johns.
In that tourney he fished two frogs, all day every day, on the same stretch of shoreline. And his weights looked like this:
Day 1: 5, 21-05
Day 2: 5, 10-12
Day 3: 5, 16-05
Day 4: 5, 10-00
So one of my questions to him was, what happened on days 2 and 4? I mean, we can maybe assume his fish were a little beat up by day 4, but what about day 2?
His answer: "Horrible execution on Friday. The worst. I can't describe how horrible my execution was."
That led to him saying, "You know, for that topwater toad bite, you need a very, very fine technique. Everything's gotta be on time. You have to be on your game to be fishing with that style of bait.
"A lot of it goes into rod position, and even body position. You have to understand that to be fishing with it – I think that's overlooked by a lot of fishermen, including myself. There's a very fine line between being efficient and having a horrible day.
"My opinion is you have to have good rod position – probably about 2:00, maybe 2:30. And I like to lean my body – I try to keep my right foot back, and hookset with my whole body. Everything has to be in tune."
If you're missing fish, like he did on Friday – "I made mistakes, set the hook too quick or too late" – he recommends holding the rod at 1:00 or even 12:00, "almost straight up. That forces you to reel back down to the fish to get a good hookset. It gives them time to eat that bait."
And if that works, he said, you'll get in a groove and your hooksets will increase.
More
> Sure enough, on day 4 he "just didn't get the bites," he said. "I think the fish just finally wore out."
> His frog/toad gear for that tournament was:
– 7′ 3″ Falcon Cara Amistad – "The casts weren't long…a longer rod gives you a little bit more leverage."
– Ardent XS 1000 reel, 6.3:1 – "The higher the speed, the easier it's going to be on you."
– 65-lb braid – "Small enough to throw, easily enough strength to move fish out of the mats."
> One more thing: "The drag on my reel was tightened down – there's absolutely no excuse to have your drag slipping when you're fishing that pattern. If I could've taken a monkey wrench and tightened it even more, I would've. It's just another advantage you give yourself."