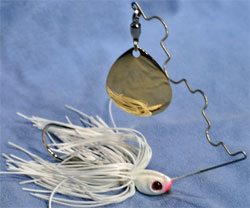 Don't know where we ran across this either, but have you heard of the Death Shimmer spinnerbait? Gotta love that name, man!
Here's the deal, from the so-so website:
"Our patent pending arm causes enormous amounts of drag and resistance as the lure comes through the water. The various offsets are strategically placed to load the upper arm with water resistance, forcing a shimmering vibration, hence the name Death Shimmer.
This incredible action sends out a myriad of signals to the bass lateral line, enabling the Death Shimmer 2 – Tournament Series to be tracked down and attacked far before it is ever seen.
Tell you what, I'm game. To me, this thing kinda looks like a giant Beetle Spin, and those things catch the fire outta anything that swims.
Here's more:

Here's what the name reminds me of: Charles Bronson in Death Wish.
Warning: The music as he's leaving the subway car might make you have a seizure.