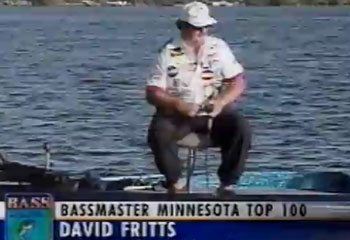 Everyone knows Paul Elias is the kneel-and-reel guy, ever since he won the '82 Classic doing exactly that. But what about sit-and-reel?
Doesn't rhyme, not as catchy, but David Fritts made a pile of money doing it, and I'm betting at least some other Northern Carolina boys do the same – or at least did. Anyone still doing it?
Here's Fritts fishing the '96 Bassmaster Top 100 on Lake Minnetonka – from the old "The Bassmasters" show! (Dig the high-tech-at-the-time graphics….)
I still find it fascinating watching him fish and listening to him talk about it. Everything he says triggers about 5 questions on my end. (No offense to the other guy in this footage, Mike Auten, a good buddy now retired from competition….)
Love this quote from Fritts: "Everyone ought to experience catching a good fish…when you need it." Sniff…. Never has happened to me, but I have had people in my boat catch a fish when I needed it!
Maybe Fritts' secret is that Mountain Dew patch on his jersey….