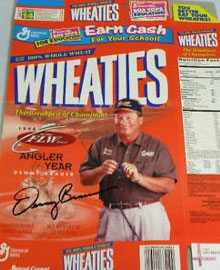 Don't know if you heard that the PAA is auctioning some items on eBay right now. Some interesting stuff, some not so interesting (IMO).
The one thing that caught my eye right away was  the 1998 Wheaties box with Denny Brauer on it. That was the first time a pro angler was ever on a Wheaties box, and while I've become a lot more jaded over the years, I still have the remnant "wow" feelings when I'd see pro athletes on that box when I was a kid.
The first pro angler – a bass fisherman – ever on the box is cool, don't care what anyone else thinks.
The box is autographed, and is listed at only 25 bucks. Get it framed, awesome.
Will also note the auction has a few U.S Reel reels with a "make offer" option. Very interesting….