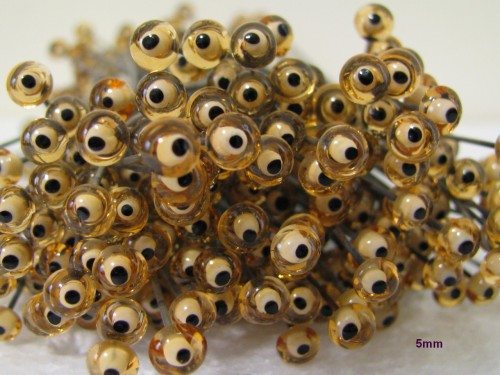 Seriously, what purpose do eyes serve on fishing lures?
You can argue that they add realism to a bait. But if we're so obsessed with making something look real, why do we all have chartreuse-, gold- and firetiger-patterned baits in our boxes? When's the last time you saw a chartreuse-colored anything swimming in your local lake?
If we were talking about one of those ultra-realistic, hand-poured California swimbaits I could see where the eye would be important. But on your standard crankbait or topwater – which aren't even really shaped like fish – how much can they help?
I've also heard the argument that eyes somehow act as a mechanism to trigger strikes. If that were the case, why haven't baitfish evolved to have tiny eyes? And why haven't any bait companies developed a lure that's covered in eyeballs from head to tail? 
I can't say that it's entirely impossible for eyes to trigger some sort of feeding instinct. I honestly don't know if they do or not. But what I do know is that the fishing world is chocked full of completely unfounded "science" that's cited over and over by lure companies, savvy marketing folks and anglers hawking their signature designs. Until someone can show me a study (Brian, you listening?) that having eyes on lures somehow makes a difference in catch-rates, I'm gonna' call BS.
It's not like I actively seek out lures with no eyes on them at my local Bass Pro (that'd be impossible, because they ALL have eyes on them anyway), I just don't put a ton of stock in the color, size or shape of the eye a lure has on it. On the flip side, I fish with some dudes that swear you'll never catch a bass on a bait unless it looks like it just stuck a fork in a light socket. At which point I introduce them to my jig, my Texas-rig, my Carolina-rig, my dropshot, my flick shake and all the other blind rigs and baits I've got in my box.
"Yeah, but that's different," they tell me. Why? Because they aren't hard baits? Have you ever seen a Senko? It's a freakin' stick of plastic, man! For some reason that's good enough, but when I buy a hard-plastic bait it has to have 3D prism eyes, a contoured scale pattern and little fins painted on the side? Oh, and don't forget the gill plate.
And don't get me started on red hooks and red line. Red either looks like blood and triggers strikes or it disappears under water. It can't be both!