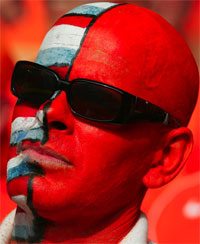 Word is a while back on the Ar-Kansas River, there was a bait called the misfit that was all the rage. A crankbait painted black on top, yellow on the belly, and one side painted red and the other chartreuse.
I've never in my entire bassin' life seen a crankbait that was different colors on either side. Anyone seen or fished (unintentionally or intentionally) such a bait?
Close But…Not Really
Only thing remotely close to this I can recall was a Mann's crankbait only sold in Wally-Mart about 20 years ago. Crawfish-colored, and fat. Probably bottom-of-the-barrel stuff, but it was great: No other bait had the action of that thing.
Caught my biggest one ever on it, a 9.5-pounder in New Hampshire believe it or not. A pond where the locals were laughing about there being no fish in there when we put the boat in….