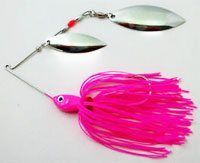 Don't mean "K-Pink," but spinnerbait.
Remember the old Color-C-Lector? (Wait – I think they still sell it!) Anyhow, believe it used to/still does recommend the color pink for dirty water. Real dirty.
Never bought it. Not that pink wouldn't work, but that it'd work better than another color the basses could see better (imo) in a mud cloud, like chartreuse, white or even black.
But I do remember Jimmy Houston on one show in ancient times using a pink spinnerbait in dirty water and saying that was one of his favorite colors…for muddy water, that is.
Anyhow, this wasn't on my mind until recently, when once again going over FishingGold data and I come across this color from a '95 derby on Dardanelle: One o' the successful anglers used a Scotty's Skitterbug spinnerbait (never heard of it) in "pinky-dink."
Never heard of that color either – sounds like a tiny bass you wear on your pinky finger – but apparently it's pink/chartreuse/orange.
So how 'bout it you mud-slingers? Anyone go pink or even pinky-dink on a semi-regular basis?
_____
These depths are a little extreme for bassin', but check out at around 1:20 for a bit.