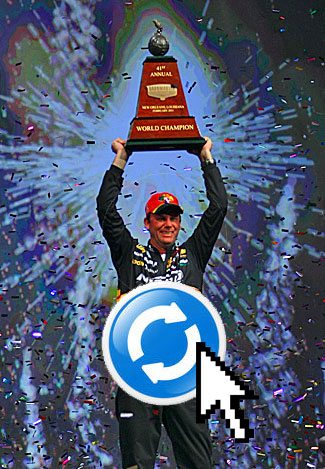 Or is it just me?
Yawn. Snore. Drool. Zzzzzzzzzz.
I lost interest the second Kevin VanDam plopped 22-plus pounds on the scales and surged into the lead on day 2. I knew at that exact moment that the 2011 Classic was over. KVD doesn't lose leads on the final day of the Basmaster Classic. He slams the door so hard the windows rattle and pictures fall off the wall. The man is ruthless when he's in the driver's seat.
I can't say anything about VanDam that hasn't been said before. I think he's the best angler on the planet. And I think he's probably the fiercest competitor our sport will ever see. He's Tiger, MJ, Babe Ruth and Joe Montana all rolled into one and multiplied by a power of 10. He is bass fishing's mind-blowing protagonist.
I have nothing but respect for KVD. I admire his drive, mental accumen, physical ability and humility. But [you had to know a but was coming] I'm kinda' tired of watching him win. And I'm sure the rest of the Bassmaster Elite Series field agrees with me. It's not Kevin's fault he's so awesome… but dang! The dude won by more than 10 freakin' pounds in a 3-day derby that wasn't exactly chocked full of behemoth bass [when compared to some of the slugfests the Elites have experienced over the last few years].
Pardon me, Mr. Vandam, would you mind letting everyone else stay within striking distance just for the sake of the show? Ya' know… maybe 'lose' a fish here and there on 'accident'. Or maybe you could have a 'mental lapse' and mistakenly cull a 4-pounder with a 3-pounder. I'm sure you can figure something out. I'm just saying that watching you blow everyone's doors off doesn't register the way it used to on the excitement meter.
And before one of you readers reminds me that Brent Chapman still had a shot going into the final day—I beg to differ. Chaps improved his weight on day 2, but all the cards were stacked against him. KVD was fishing a technique he wrote the book on in an area that was [re]loading up with a bunch of plump largies lookin' to do their annual bump and grind. Not to mention VanDam didn't have to deal with X-factors like fog, 100-mile runs or the bipolar temperature fluctuations of the Mississippi River. I was rooting for Chaps, but his odds of pulling it off against the sport's most cold-blooded closer were slimmer than Aaron Martens after a week-long bout with the stomach flu.
Before I let you boys go to town in the comments, I want to say that when I call this Classic a snoozefest I'm only talking about the actual competition aspect. The stuff like Kevin Oldham's story and Brandon Palaniuk blowing Bryan Kerchal's fish whistle were the spice that made this otherwise bland Classic palatable. I got goosebumps watching those scenes play out. But other than that… Zzzzzzzzzzzzzzzzzzz.
Am I alone on this one? Does everybody else love watching KVD win over, and over, and over, and over, and over again [employees of Strike King aren't allowed to answer that]?