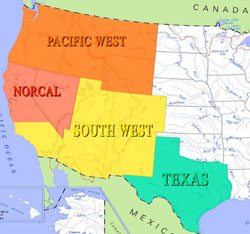 Interesting. The rumored Gary Dobyns-backed "major western circuit" – covered weeks ago on the BassBlaster (have you signed up yet?) – was announced today. Before you form any opinions about that, especially you westerners, watch the vid:
If you can get…past…the typos…it's interesting, ain't it.
The vid makes a good case for a western circuit, and for obvious reasons leaves out the fact that B.A.S.S. and FLW have spent a lot of money trying to make the West work and haven't succeeded. The question is why.
Was the money not spent wisely? Was the timing off? Did the economics not make sense for those companies? Was it too far from home? Do you have to be a left-coaster to make things work out there? etc.
Another question: Does any of that matter?
In other words, there's no law limiting spending money in bass fishing. Seen many companies spend incredible amounts of money and lose it. Not just ESPN. Other media companies, tackle companies, tournament companies. Some companies are still doing it.
Always will be someone doing it, I guess.
Not saying that's what Outdoor Heritage (the company behind the new western circuit) will do. What I mean is, if they're bent on doing it, they're going to do it. More power to 'em. Hope it works out, partly because those fisheries and the "western mentality" of bass fishing aren't nearly as well-understood as they should be.
One example: From doing BassGold – which reached an amazing 4,000 patterns today – it's apparent that pattern info out west is largely nonexistent. Honestly, that's a travesty, a huge loss for the western bass fishing heritage.
So love to see this go, learn more about western bassin'. I'm sure others would be in the same boat. But it will take way more effort, perseverance, money and luck than the guys envision (free advice – that plus $1 will get you a Whopper Jr.).
One Thang
One thing I'm a little concerned about, though: There's only so much money to go around in bassin'. And the more that money spreads out, the less good everything is. One way to look at it: When Ray Scott had bassin' to himself, the industry was probably the strongest it's ever been.
Ever.
Didn't say best, I said strongest.
Think about that. Can you say the same about football, baseball, tennis, Nascar, etc.? Nope.
But the fault there lies more with the folks spending the money than the people askin' for it imo.
Deets
The deets on the circuit, from today's press release:
> The circuits are planning to launch in the spring of 2013 and will feature north and south divisions for the pro-am trail and a team trail focused in California to start with plans to expand over the course of three years.
> The investment company is comprised of western stalwarts like Gary and Richard Dobyns, Tony Franceschi, Roderick Lee, Jim Markham and Craig Gottwals.

> "We've been offered a wide variety of tournaments in the past, but never one that provided anglers the opportunity to chase the dream of making a living fishing out West," states Franceschi. "Our plan is to build this organization so that in the future, whether you are just starting out or have been competing for years, there will be the opportunity to make your dreams a reality!"
> Says Dobyns, "Flat out, this circuit will attract the best of the best. This is just the beginning. Our vision is to build upon this and deliver an elite-level circuit for the West."
Tentative schedule for 2013:


North Pro-Am ($1,200 Pro / $400 Am)


Shasta          Feb 8-10, 2013
Oroville         March 15-17, 2013
Don Pedro    April 26-28, 2013
Clear Lake    May 31 – June 2, 2013


South Pro-Am ($1200 Pro / $400 Am)


Roosevelt        Feb 1-3, 2013 (tentative)
Havasu            March 8-10, 2013
Pleasant          April 19-21, 2013
Mead              June 7-9, 2013
Team ($250)


Oroville           Jan 26, 2013
Berryessa        March 2, 2013
Folsom            April 6, 2013
Cal Delta         May 11, 2013
Clear Lake      June 29, 2013
Category: AZ, CA, Gary Dobyns, Tourneys, UT