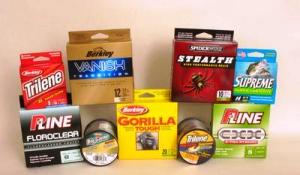 One thing I noticed while browsing through all the Black Friday tackle sales last week is that about every manufacturer of line now has an available braid, fluorocarbon and monofilament to choose from. Another thing I've noticed is that from the sounds of things on the various fishing forums, lots of guys still have reservations about using some of the newer types of line, largely due to cost or handling issues.
Lets take a quick review of the various line type properties, and then hear your thoughts on which line(s) you use and why.
Monofilament/Copolymer: Good old tried and true line with some newer improvements in the case of copolys. Lots of colors available. Also lots of stretch (15-30%). Breaks down with UV exposure and absorbs water. Can be formulated to be stiffer or more flexible. Density is barely heavier than water (1.1 vs 1.0) making it almost neutrally buoyant. Higher refractive index than water (1.58 vs. 1.33) makes it supposedly easier for fish to see than fluoro. Easy and accepting of knots. Very affordable.
Fluorocarbon: Newer kid on the block. Pretty much available only in "clear" color. Stretches about the same as mono (15-30%) though some argue differently and advertisers/pros continue to state low stretch. Very UV resistant and absorbs almost no water (<0.04%). Fairly stiff line and doesn't handle as easily on spinning gear especially. Density is greater than water (1.78 vs. 1.0) and so easily sinks, plus the added benefit of good "bite" transmission, even on slack line. Lower refractive index (1.42) means supposedly less visible to fish, and an advantage in very clear water or on highly pressured fish. Doesn't play well with some knots, and doesn't like being backlashed or bent hard. Fairly pricey.
Braid/Superlines: Braided "Dacron" has been around forever, but newer Dyneema and Spectra versions are what's hot. Some even now have Gore fiber introduction. Good array of color selection, though nothing truly resembling "clear". Good UV exposure and little to no water absorption. Very easy handling except in cases of abrasion resistant coatings. Plays well with spinning reels. Lighter than water (0.97 vs. 1.0) so it floats. Opaque, so it is arguably the most visible line to fish in most situations. Very low stretch (2-4%) for rock solid hooksets. Is somewhat knot specific. Great tight line feel but poor when slack. Very low diameter for rated strength. Regular braids are much more expensive than mono, and specialty versions now coming out are even pricier, but still similar to fluorocarbon on a pennies per yard basis.
If all the recommendations and analysis of professional bass anglers is a clue, it looks like fluorocarbon is the most widely used line on tour now for most applications. Mono has been relegated to the back shelf, yet it's still very popular among some anglers due to cost and familiarity. Braid is a given for things like frog fishing and flipping heavy vegetation, but not many people seem to have made the move to all braid, either with or without a mono/fluoro leader.
So what did your line selection look like this year? Anybody still use mono for anything? Have you made the move to all braid? Is there one of the three you just won't use at all for some reason? Is the higher cost of fluoros and superlines worth it to you?
Let's hear some thoughts…