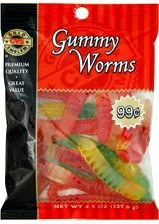 Sorry, but I couldn't resist. We're taking a different tack this Monday, seeing as how ICAST begins later this week, that monster trade show of everything great and wonderful about to be released onto the bass buying public. There will be lots of reports all over the web for all you guys to read - let the hype and the drooling begin.
Here's a bait you won't find at ICAST. Regular BassParade reader P.J. Filipowicz clued us into this (not necessarily) new but deadly worm. Comes in lots of great colors, only $0.99 for a whole package of baits. I even saw them on sale a couple weeks back for the pre-show promotional price of 1/2 off ($0.48) for you bargain basement guys. Try and beat that price at Tackle Warehouse or Bass Pro Shop, guys.
P.J. writes: "Have been following your recent posts on the science and physics of rods, rigs, line, rusty hooks etc. and wanted to share something that defies the science of today's ultra-tested, ultra-expensive lures and soft plastics (although I own all of them). Plus, it's just funny as hell  🙂 "
You can check out a story of his bass catches HERE.
You can stock up on these baits by purchasing online. Don't accept any cheap knock-offs. Buy the tried-and-true originals HERE.