About
Who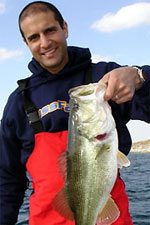 Who's behind the BassBlaster? Mostly Jay Kumar.
You might recognize the name, maybe not. Cool either way. Jay's done a few things in bassin' – created BassFan.com and BassGold.com, co-host of the old ESPN show Loudmouth Bass with the Z-Train, former Bassmaster senior writer – those kinds of things.
In 2007 he sold the Bassin'Fan and was locked out of the sport until 2010. Then one day in the summer of that year, he was just mindin' his own bidness when he heard that BASS was being sold and Wal-Mart had jumped on board big with FLW Outdoors. The last time those things happened he started BassFan, so he figured, hey, let's go!
Plus the bassin' world needed the sense of humor and insider knowledge only Jay can muster up – dang straight! So the BassBlaster is the best, worst and funniest in bassin' every day, delivered with Jay's unique style. A fave daily read of
And don't forget, he's also movin' the digital bassin' needle (big time) with BassGold. Check it if you haven't already. It's literally the ultimate bass patterning tool.